I have really started to embrace my inner healthy person, so I've been looking for companies to try fit the type of lifestyle I lead and can provide me with good, healthy food to fit into my diet. I was so excited to find Truly Organic Foods and couldn't wait to try out some of their items.
started out with the desire to share the raw food lifestyle with the world and help people achieve their healthiest selves. This company strives to keep the nutrients in foods even when the food hits your plate. I love the philosophy they share on their about page, "You won't need to resort to junk food or stimulants to "feel better" anymore. Living really can be that great, just the way it is!" I strongly suggest you take time to peruse their website too as you will find many, many tasty recipes and this will inspire you to think creative with your meals at home while still staying healthy!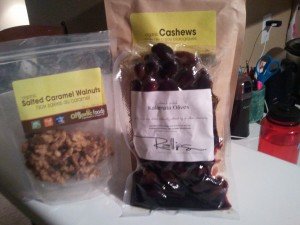 I got to try a few of their amazing items – their Kalamata Olives, Raw Cashews, and Salted Caramel Walnuts. Let me tell you that my experience with all three of these items was pretty amazing and I am now a huge fan of this company.
Salted Caramel Walnuts: I admit that as you can see in the photo above that the bag is already almost half gone. That's because the second I got these in the mail I tore into them and scarfed a handful or two. But when I actually put them into food – YUM. I mixed them into my morning breakfast of blueberries and yogurt and these just enhanced the entire experience. Next time I have these I want to stir some into oatmeal. These are worth buying in bulk to me and I can't wait to buy these again.
Kalamata Olives: Timely enough, when I got these I was about to make a salad, and I love these types of olives in salad! Probably the only downside is these olives did have pits, but it wasn't too big of a deal to me to spit them out. To me, I thought these were excellent tasting and I felt like I was having a treat when I ate these.
Raw Cashews
: At first, I will admit, I had a little trouble with these because these cashews didn't have any salt in them and they were just very…raw. But after I started tasting a few they weren't too bad. I would say that had a touch of a sweet flavor that I tend to miss when they are coated with salt, so I was glad to have that experience. Overall, I think these are good but I want to warn all you salted cashew fans that these may not be what you expect, but they are much better tasting (and better for you)
And I'm so excited to announce that I get to giveaway all three of the items that you see above! Just enter via the Rafflecopter below!
Buy: Purchase your organic foods and snacks by visiting
Follow: Follow Truly Organic Foods on , , and .
Win: Enter to win olives, cashews, and walnuts (as featured above) by using Rafflecopter below. Giveaway ends on 7/15. US Only Giveaway.

I received this items in exchange for my honest review. My opinions are 100% my own.