I am an admitted night owl and probably half of that reason is because I drink so much coffee! So I couldn't wait to try out the coffee made by Grace Hightower and Coffees of Rwanda.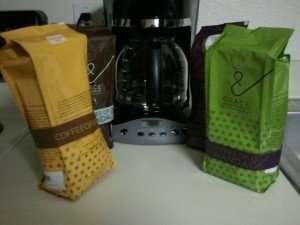 The is absolutely incredible. It was started by Grace Hightower, the wife of Robert DeNiro was so inspired by the Rwandan people that she wanted to create a company that supported the coffee farmers of Rwanda as well as celebrates the rich culture of the area. This allows the people of Rwanda work towards a better future.
And you must watch their video they call "LOVE," it will really tell you the story of the coffee and where they come from and the people who make it. It will actually inspire you to buy a bag of coffee!
I tried four different flavors of coffee -
Medium Light Roast
Medium Dark Roast
Espresso Roast
Signature Series
Of these four different blends, I absolutely loved the Medium Dark Roast and the Espresso Roast. These were the darker blends and I do tend to lean towards darker roasts anyways. You can just tell the quality of the coffee – the taste was rich and smooth. It made for an excellent morning coffee. In fact, I made sure to bring all four bags with me when I went away during Memorial Day weekend and it became part of a luxurious vacation experience!
And I have to say, I was a little hesitant with the Medium Light Roast coffee, because of that dreaded word – LIGHT roast. But I was very surprised, they made a blend of coffee that although was a light roast still had strong flavor. I saved most of the Espresso Roast beans because that did tend to lean towards a medium/light blend, which will make for excellent iced coffee during the hot season!
And now for my favorite part, I get to giveaway coffee to one of my lucky readers! You will be receiving the same 4 different coffees that I received!
Buy: Purchase your own coffee online by visiting their website .
Follow: Follow Coffee of Grace on , , and .
Win: Enter to win four coffees from Coffee of Grace using the Rafflecopter below. Ends 6/27.
Thank you to Coffees by Rwanda for providing me with the coffee to review and for sponsoring this giveaway. My opinions are my own.