I have found the SOFTEST, WARMEST, CUDDLIEST blanket ever!!! You've gotta head over and check out the newest product from , the !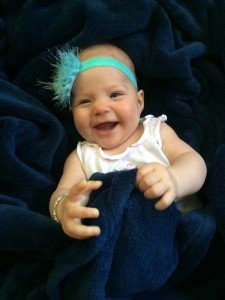 The Serasoft blanket is the softest throw created by Berkshire. The evolution of this blanket came from a simple child's teddy bear. Rick Lotuff (creater of Berkshire Blankets) knew that it is the softness of the teddy bear's fur which brings comfort and warmth to its owners. This is how the Serasoft blanket was founded.
The throw is a double sided plush throw which comes in many different colors and sizes. I choose to review the navy blue king-size throw with the thoughts that it could be a nice throw for the end of our bed. However, as soon as I opened the package and felt the blanket, I knew it would be used much much more than just sitting on the edge of my bed.
Sera is Italian for "night" so combined with the word "soft," literal translation is "soft night." Let me tell you, that is exactly what this blanket is. No exaggeration, this blanket is so incredibly cozy! I have used it countless times to snuggle on the couch on a cold afternoon. It is quite large so there is plenty of room to share with the little ones. My baby LOVES this blanket. She likes to rub her hand on it, and it seems to have a soothing effect.
The throw is very warm as well. I think for the summer I will have to put it away because it almost is getting too warm for me, but depending on where you live, you might be able to use this blanket year round!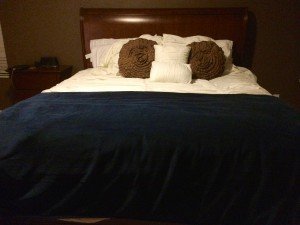 As far as cleaning, this throw is exceptional quality. I washed mine on cold, alone on the gentle cycle the first time and then dried it on low. The throw came out just as soft as the first day I took it out of the box. Also, I am allergic to a lot of stuffed animals so I was a little worried I might have issues with this blanket but I do not at all.

So if you are looking for a high quality, warm, snuggly blanket, check out . The throws start at around $24 and the bed blankets range from $32-$52, depending on the size of course. They have some great other products I cannot wait to try, such as the summer blankets with water resistant picnic blankets or the soft quilted bedding collection.
Go check them out for yourself because Berkshire is giving one lucky YGTB fan a $50 gift card to be used for the product(s) of your choice!! Also, check them out on Facebook or twitter, and if you sign up for their email list you will receive 10% off your next order. Good luck and happy shopping!
Disclaimer: Special thank you to Berkshire Blankets. The product in this review was provided to me free of cost for the purpose of conducting this review. All opinions expressed in this review are my own are not influenced by monetary compensation.
FOLLOW

: You can connect with Berkshire Blankets on Facebook or Twitter.
BUY

: You can purchase your own Serasoft throw directly from their . You can also check out their other products .
WIN

: One lucky YGTB reader will win a $50 GIFT CARD good for the product(s) of your choice! Amazing giveaway you will want to enter to win…Enter below for your chance to win!