With 2014 rapidly approaching my husband and I have been talking about our goals for next year. Like most people, we both had health/fitness goals and we started looking into different fitness bands to help us monitor our progress. I jumped at the opportunity to review the .
My husband was dying to try it and it was fun to have him test it out. First of all, we were both impressed that the Boost is from Bowflex. Bowflex is made by Nautilus and is the biggest name in home exercise equipment. They are known for quality and this fitness-monitoring band is right up their alley!
The Bowflex Boost is a wristband that you are intended to wear 24-hours a day. It tracks your calories burned, steps, distance and sleep. My husband appreciated that The Boost is streamline and unobtrusive unlike similar products that are bulky or designed to be worn on other parts of the body.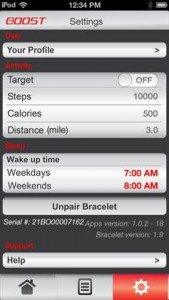 My husband liked the way that the Bowflex Boost makes you more aware of your activity throughout the day. It has a light on it that keeps you updated on your progress in achieving your goals. The light progresses from red to yellow and then green as you get closer to achieving the goals that you set. When he would see it in the red he would set out to move and get it to change colors. It is an easy and accurate reminder of your activity, which is fabulous!
How do you set your goals and see all the information that your Boost band is monitoring? Well, when your Bowflex Boost arrives you simply download the free Bowflex Boost app that is available on iTunes. It is compatible with iPhone, iTouch, and iPad 4s and higher. The app allows you to set your own activity goals for the device to monitor.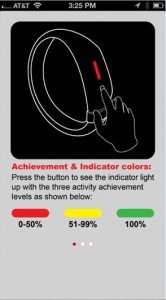 To sync, set to sleep mode, activity mode or to check to see which color you are on you simply press the button on the device for different amounts of time. My husband is large in stature and has big fingers so he had a hard time holding the button down sometimes. This wasn't a problem for me and it wasn't a major issue for him but is something to be aware of.
The sleep mode is one of the more impressive aspects of the Bowflex Boost. Sleep is such an essential aspect of our overall health and I love that the Bowflex Boost incorporates this. When in sleep mode the light turns purple and detects how long it takes you to fall asleep and how restful your sleep was based on how often you toss and turn in your sleep. Their hope is that you can see and find a correlation between how well you sleep and how well you feel throughout the day.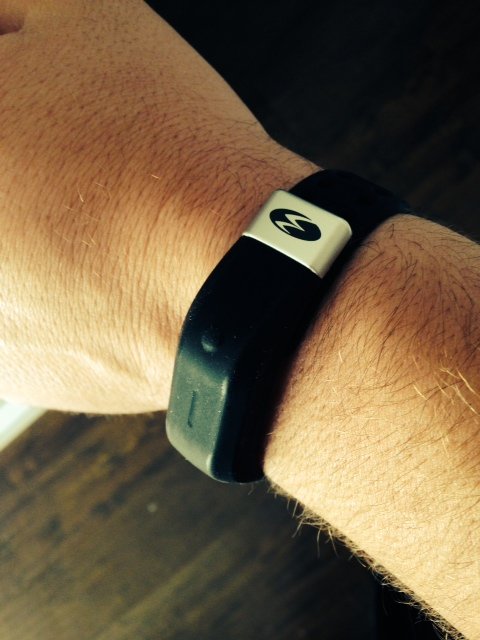 The pros:
The price! The Bowflex Boost is $49.95, which is significantly less than other monitoring devices on the market.
It monitors sleep, which is a wonderful feature.
It is streamline and unobtrusive.
You can get it wet. While they do not recommend swimming with it on you can shower or go in the rain with your Bowflex Boost on.
The battery life is wonderful! It can go for days on a charge, which is wonderful because you don't run out midday. It is easy for you to charge it at a time that is convenient for you.
The app is free and easy to sync.
The colored lights make it easy to see your progress throughout the day. This keeps you motivated without having to check the full app all the time.
The Bowflex Boost also has a feature that lets you share your progress (if you want to) on Facebook and Twitter.
Room for improvement:
It would be nice if you could sync the device and the app from inside the app instead of only from the band.
The Bowflex Boost is exclusively an activity tracker but it would be great if it could track your food and water intake as well or if it could sync with an app that did.
It would also be wonderful if it had a time display.
Hopefully they will come out with their Android app soon. They are working on one.
At the low price point it doesn't include a GPS or heart rate monitor but those were not features we needed.
The areas for possible improvement are not major; they are simply possible tweaks that would be beneficial in my opinion. The device is fabulous as is. Being aware of your health habits and routine is critical when you want to develop better habits and routines. The Bowflex Boost offers monitoring and motivation for your activity. It was designed to keep you moving and does exactly that!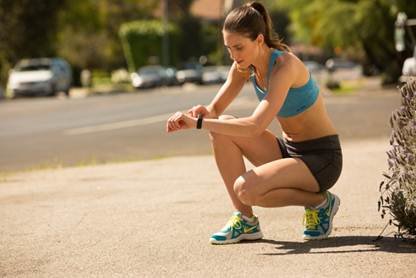 FOLLOW:

You can connect with Bowflex on , and .
BUY:

You can purchase the Bowflex Boost directly from their .

Special thanks to Bowflex for the product to review!
All opinions are my own and are 100% honest!