Several years ago I filled out a survey and one of the questions asked what gifts I love to receive at the top of the list was scented candles! Year round there is almost always a candle burning in my home. A beautiful scented candle can make any space more welcoming and comfortable.

is a company that creates candle gift sets and gives you the opportunity to make the special and unique for any occasion. Each Lumnique scented candle is hand-poured and made to your specifications. The process of building a custom candle can be done in minutes and only requires 5 steps.
1. Choose intention (Wedding, Birthday Wishes, New Beginnings etc.)
2) Choose color (14 colors to choose from)
3) Choose fragrance (Lumnique offers a very wide variety of fragrance choices)
4) Choose a gift set (Standard or Deluxe)
5) Final personalization (You are able to include a personal message to send with the set)
After I created my Deluxe Candle set it arrived in only a few days and was in a gorgeous box. The quality of presentation was exquisite. Along with the candle the box contained a personalized note card and a box of matches. This set really does make a stunning gift and the box is especially beautiful and durable. I was also very impressed with the matches. They were very sturdy and easy to light.
I was amazed at how true to color the candle actually was when it arrived. The candle has two wicks which I love and smelled amazing. The scent I chose was Hansel and Gretel because I enjoy the warm smell of baking in the kitchen. The scent was perfect. It was neither overpowering nor too subtle. There was a day when my husband lit the candle and I walked in the room without knowing it was lit and I thought to myself that it smelled like there was something wonderful in the oven.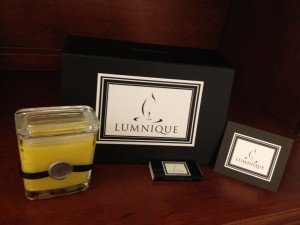 The only precautions that I would give would be to remember not to let the candle burn too long at a time. Lumnique recommends not having it burn for more than 4 hours nonstop. It's very important to never leave any candle unattended.
Lumnique is a great company that values the customers experience with their products along with maintaining high quality products. I hope that over time they offer a wider variety of candle sizes; I loved my candle and would love the opportunity to buy and even bigger one!
FOLLOW:

You can follow Lumnique on and .
BUY:

You can buy a Lumnique Candle Set on their .
WIN:

One lucky YGTB winner will win their very own Deluxe Candle Set. Enter below for you chance to win!



Good luck! Thank you for entering our giveaways!

Special thanks to Lumnique for the review product and for sponsoring this great giveaway!
All of my opinions are my own and are 100% honest.