I love finding fun and creative products. It's so great to find great companies that make unique products and INKtastic is a company that does exactly that!
INKtastic offers a wide variety of products on their including bibs, mugs, shirts, signs, and so much more! Their selection is something you have to see it for yourself! They have an expansive collection including over 900 pages of images and saying that can be put on any of their products. Here are some of my favorites: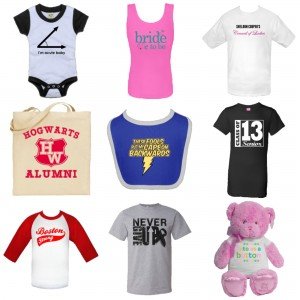 Additionally they have the ability to let you upload your own image or put your own text in to make any product your own custom design. This is such a perfect and personalized gift idea for any occasion.
When INKtastic gave me the opportunity to try out one of their products I was so excited! As I browsed through their many options I had a hard time deciding! I finally chose to design a Personalized A-Line Baby for my daughter. They had several colors to choose from but I settled on black dress with the saying, "Every little girl needs a little black dress."
Our dress arrived within a couple days and was exactly as it appeared online. It fit great and the images didn't fade after washing. We love our daughters dress from INKtastic. I love that INKtastic is a family owned business that offers quality products at affordable prices. They have a wonderful, simple rule that they live by: "If we wouldn't buy it, we won't sell it." They make quality and customer service their priority, which is something I really respect.
FOLLOW: You can follow INKtastic on , and .
BUY: You can create your own custom products on their .
WIN:
One lucky YGTB reader will win a $25 credit towards any purchase. Enter below for your chance to win!
Good luck! Thank you for entering our giveaways!

Special thanks INKtastic for the review product and for sponsoring this great giveaway!
All of my opinions are my own and are 100% honest.