When I hear "Gymboree," instantly my mind goes to quality clothes in adorable and fun styles.
I had heard great things about their classes for years now but never even knew where the classes near me were. That all changed a few weeks ago when my family had the opportunity to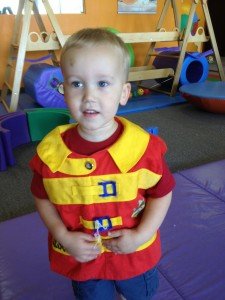 attend the Gymboree Family Play & Learn class. I have an almost 3 year old and an almost 1 year old. One of the things that I love most about Gymboree is that they offer family classes that are available for children of many ages, which is amazing for families with multiple young children like mine.
One week the kids were firefighters washing the truck and saving Gymbo the next they were exploring a bear cave and helping the bee's get back into the beehive. I really appreciate the emphasis Gymboree places on self-discovery and imagination. They foster a wonderful environment where the children are safe to play and explore. My son loved being a part of the action and he was fully engrossed in everything that was going on.
The bubbles were beyond fascinating to my daughter (and myself). As a mother of two children under the age of three we spend a lot of time with bubbles and Gymboree bubbles are truly amazing! They are long lasting and the bubble tube seems to make hundreds if not thousands of bubbles at once. To make them even more amazing Gymboree's bubbles are non-toxic and don't leave the soapy residue behind that other bubbles do. It was so much fun to enjoy the bubbles with my daughter and play with her in the tunnel and on the slide.
In summer time here in Las Vegas it is so great to have fun activities to do that can keep children active and inside. The entire 45-minute class was full of songs, games and activities that kept both of my children
entertained without overwhelming them. Each week my son looks forward to going to class and I love seeing the excitement on my daughters face when she realizes where we are. The Gymboree Family Learn & Play class is so great for our family! One of the benefits of any Gymboree class enrollment is that Free Play is included so that you can come by during Free Play time and enjoy playing with and exploring all the great equipment Gymboree has to offer. I love knowing that each week we will be able to participate together and I can enjoy the time without having to plan anything!
I can't wait to try out another class soon. They have so many great classes to choose from!
TRY IT:

You can check out the Las Vegas/Henderson Gymboree schedule or go to their and search for your local center to enroll in classes where you live.

Thank you Gymboree for the month of Family Play and Learn Classes for both of my kids!
All opinions are my own and 100% honest!