I first had a try of this recipe at a family Thanksgiving gathering. I love lemon-flavored treats, especially if they are not too overpowering. A nice sweet hint of lemon paired with some delicious cookie dough, makes for a wonderful end result of lemon-drop candy cookies. These tart cookies take me back to when I was a little younger and my elementary teachers would give the students lemon-drop candies for answering questions correctly and scoring well on tests. Maybe that is why I associate these cookies with success and all-around good feelings.
These cookies make a large batch and are wonderful for family gatherings that bring a large crowd. They're a perfect treat for Thanksgiving, Christmas, homecomings, farewells, and parties. A touch of tart, a touch of sweet, and a touch of gooey cookie will make these a hit any time they are made.
I got this recipe from my cousin Kelly, and the original recipe can be if you want to check it out. Enjoy!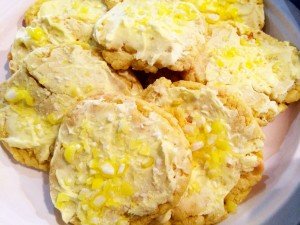 Ingredients
2 cups sugar
1 1/2 cups Butter-Flavored Crisco
3 large eggs
1 tsp. lemon extract
2 tsp. vanilla
4 cups flour
1 1/2 tsp. baking soda
1 1/2 tsp. baking powder
1 tsp. salt
1 1/2 finely chopped zest of lemon
1 (6 oz) pkg. crushed lemon-drop candies (can use as much candy as desired though)
1 1/4 cup powdered sugar
1 lemon, juice of
Instructions
Preheat oven.
Cream together sugar, shortening, and eggs before adding any other ingredients.
Add extracts.
Stir in dry ingredients, lemon zest, and crushed lemon drops.
Line cookie sheet with parchment paper or use cooking spray.
Roll dough into 1-inch balls and flatten slightly.
Bake at 350 degrees for 10–12 minutes or until done.
Let cool for 1–2 minutes on the pan, remove, and enjoy.
Notes
These cookies goes great with a glaze. To make the glaze, mix powdered sugar with lemon juice. Make desired amount of glaze and brush over each cookie. Let dry completely and eat.
http://yourgoldenticketblog.com/2015/02/lemon-drop-candy-cookies/