I couldn't wait to share my experience with Craft of Tea with you!
Craft Tea is a tea subscription box service that allows you to try new teas every month. It's a business located in the heart of Silicon Valley (I was so happy to see a business from an area I grew up in!) by a husband and wife team who wanted to bring teas to the masses! Growing in Hong Kong and after having travelled all of the world, they wanted to share the different types of teas in a subscription box of samples you can try.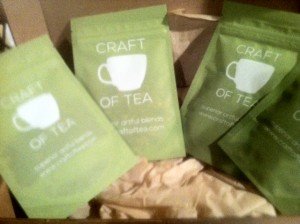 I received a box of four different teas one was a black tea, the other two were herbal teas and another one was a green tea. The tea comes in small green packets that contains the loose tea leaves. My favorite part of subscription boxes is the presentation. It was a light weight box, but it contained four packets and so far the four packets do go a long way.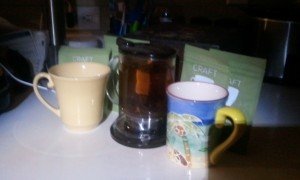 I first tried the black tea, because that's my personal favorite type of tea. I have a tea strainer that I purchased from a local tea store. These come fairly inexpensive, so I highly recommend you use or borrow one first if you want to subscribe to this subscription service.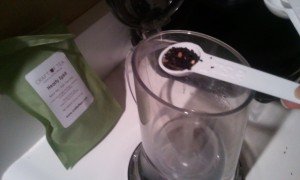 It was only one teaspoon per cup, but since I usually like fairly strong tea, I used two teaspoons.
It turned out to be a wonderful experience! I loved this tea – it was floral and tasty and I needed very little milk and sugar mixed in. You can always taste the difference between the tea you see come prepackaged individually to loose tea. The quality is always so much better, and I can't wait to have my next cup.
The price for this subscription box is fairly inexpensive. Remember, this does stretch. You may think the small packets will go fast, but they don't. I know this will last me for the month. You can purchase a starter sample pack which is 4 teas for $19.95 or you can purchase a full size pack of 8 teas for $29.95. I love the fact that you can also select the teas yourself, or have them select for you. If you aren't too familiar with teas or only tend to drink black tea, I recommend being brave and having them choose for you.
Overall, this makes for an excellent gift for someone else or a great subscription service for yourself. Remember, Mother's Day is just around the corner so I highly recommend considering this for your mom! She'd love it, especially if she is a tea drinker.
Buy: Purchase your own subscription box on . Use code SPRING30 for 30% off until end of May.
Follow: Follow Craft of Tea on – , or .
Win: One lucky winner will receive their own box of tea! Ends 4/29.

Thank you to Craft of Tea for sending me a box of tea to sample in exchange for my honest review and sponsoring this giveaway.