When I heard the name BrushLove to be honest, I didn't quite get it. I have never loved a brush before but their products and selection looked amazing so I jumped at the opportunity to review two of their brushes. After trying them out for a few weeks I completely get it! I am in !

I received the and was curious to see how it stacked up to my current hairbrush. The surface area is even larger than it appears online and is actually almost twice the size of the one that I had been using. To test it out I used my old hairbrush until all the tangles were gone (or so I thought), then I followed up with the BrushLab Zebra Cushion Paddle Hair Brush. This fabulous paddle brush sells for $9.95 and I was shocked and amazed at how many more tangles it was able to get out. I have also used it to help straighten and blow dry my hair and I was very impressed with the heat resistant bristles. It has been up to every test that I have put it through!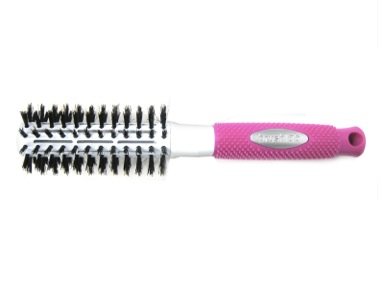 BrushLove also sent me the BrushLove says that the round thermal hairbrush is the most popular round hairbrush and I can see why! This BrushLab Thermal Hairbrush speeds up the drying process and is designed to add volume, curl or straighten. It is made from 100% Natural premium cut boar bristles, which have more flexibility than those with nylon bristles. The thermal ceramic-coated barrel helps evenly distribute heat to prevent damage. I love the grip! Their signature comfort cozi grip is easy and comfortable to hold. I often lose grip on round brushes but not this one! This BrushLab (Fresh) Thermal Round Hairbrush sells for $14.98.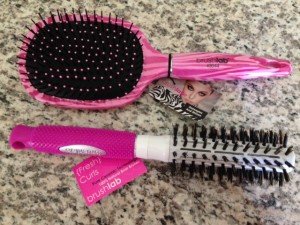 Do not let the name BrushLove mislead you! While they have a wonderful selection of every type of brush and comb that I could imagine they also offer a great variety of other products including nail polish, cosmetics, accessories, cosmetics brushes, and a variety of hair products. There are so many perks to buying products from BrushLove! The carry top brands, offer free returns, free shipping on purchases over $25, a 366 days return policy and they offer a free gift with every purchase. I also love that their homepage is full of coupon codes, which makes it easy to get even better deals.
CONNECT:

You can connect with BrushLove on , and .
BUY:

You can purchase products from BrushLove directly on their .
WIN:

BrushLove is giving away 5 BrushLove Gift Cards each valued at $25! This giveaway will be open until November 27th. Enter below for your chance to win!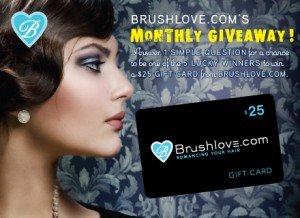 Good luck! Thank you for entering this giveaways!

Special thanks to BrushLove for the products to review and for offering this great giveaway!
All opinions are my own and are 100% honest!