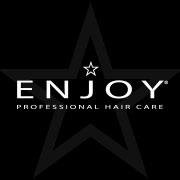 My hair has always had a little bit of a natural wave to it but since having my children that wave has become much more substantial and stubborn. Straighteners have become a must. I do not like having to straighten my hair all the time but blow-drying it straight hasn't been enough. Thankfully I recently discovered a miracle product from .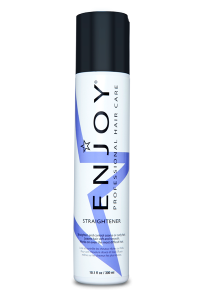 This wonderful hair product is very appropriately named: . It says to apply a generous amount of product to damp hair but it didn't take very much for me. I used about a nickel size amount for my hair. After working it through my hair I brushed my hair straight while blow-drying. My hair was very smooth and straight. They recommend to touch up with a flat iron as needed on very stubborn hair but I was very excited that I didn't need to.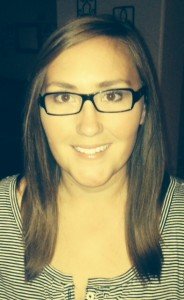 I absolutely prefer ENJOY Straightener to a flat iron. I like flat irons but my issue is that many leave my hair not only straight but also flat. ENJOY Straighter left my hair full, smooth and straight. Usually the day after I have flat ironed my hair some wave has snuck back in but not with ENJOY Straightener. Last week I went to curl my hair the day after using Straightener and I couldn't understand why my hair was refusing to curl until I remembered that I had applied the product. It keeps your hair as straight and smooth as if you had your hair professionally straightened but only lasts until you wash it again. I really like this because it gives me the ability to wear my hair straight when I use the product and then I can wear it curly again after the next wash. I am crazy about ENJOY Straightener. If you have wavy, frizzy or curly hair you really should try this miracle in a bottle!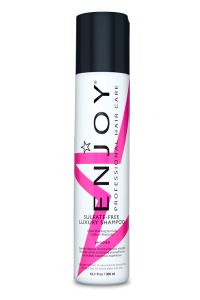 Along with Straighter, ENJOY also sent me their and Conditioner to try. I really enjoyed them as well! I love that the shampoo is Sulfate Free and they weren't exaggerating when they named it Luxury. I felt that it made my hair look longer and fuller than usual without any extra effort or products. The Luxury Shampoo and Conditioner smell wonderful with a hint of coconut (which is one of my favorite scents). The say that the shampoo can also be used as a luxurious skin wash.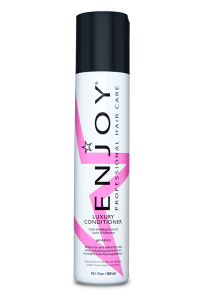 The leaves my hair feeling soft! When used together the Luxury Shampoo and Conditioner pack a punch while nourishing your hair. ENJOY also says that their Luxury Conditioner can be used for shaving and to moisturize the skin. These three prodcuts (Straightener, Luxury Shampoo and Conditioner) are the ENJOY Luxury Smoothing System. The products are wonderful and I really like the packaging. My only suggestion would be to make the opening for the conditioner a little big larger so that it is easier to get out as you get to the end of the bottle. It's a thick, quality product and I want to use every last bit of it.
ENJOY Professional Hair Care offers a full line of Shampoos, Conditioners, styling aids, finishing tools, hair color and their own flat iron.
FOLLOW:

You can connect with ENJOY Professional Hair Care on , , and .
BUY:

You can learn more about their products on their . You can also use their to find ENJOY Professional Hair Care products near you.
WIN:

One lucky YGTB reader will have the opportunity to win the complete Luxury Smoothing System. Enter below for your chance to win!



Good luck! Thank you for entering our giveaways!

Special thanks to ENJOY Professional Hair Care for the review products and sponsoring this great giveaway!
All of my opinions are my own and are 100% honest.