You probably remember a few months ago when we featured and their baby and toddler feeding essentials, well…thankfully they are back with some adorable new kicks for the kiddos.
It seems like every time I turn around my kids are growing out of their clothes and especially their shoes so this review came at a fabulous time for us. All three of my kids got new kicks, pictured in this post, so we could really see how these shoes hold up to different ages and activity levels of children.

First off, I have to say I LOVE that the shoes for the "big" kids are slip on without the hassle of laces or Velcro. They are so easy to put on and my kids love the fun designs on them. Second, these shoes wear very well. My oldest loves her fancy pink shoes so she is pretty "nice" to them, but my crazy three year old is nothing but energy and life so he really put these shoes through the test and still does every day. He loves the pirate boat on them and I love that they have held up to him dragging is feet to stop his bike and everything else.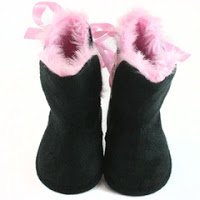 told me that I can just use a Magic Eraser on the shoes and especially the rubber around the bottom of the shoe to clean them, which probably works great, but my kids seem to get their shoes covered in gross stuff so I usually have to throw them in washer. These shoes were no exception so after a spilled soda and then playing in the mud puddles the soda made there was no other option than to put them in the washing machine. Now you know form someone that has already done it that you can throw these shoes in the washer, let them air dry, and they will come out looking as new as the day you bought them. Special thanks to my cray little man for providing me with such an great review test!

There are lots of fun prints to choose from for the big kids and the baby shoes. I got my little peanut some pretty boots and she looks like a fashionista with her little boots, leggings and skirt. Plus they are fully lined with the pink fake fur so they are super warm and comfy. They have a soft sole for early walkers but it is thick enough that she can wear them to the park. I love the ribbon detail in the back, and they are, once again, so easy to put on that my one year old slips them on and off all day around the house.
In a nutshell, great fun shoes for the kids and they are a great price, too. (Only $26)
Thank you Rukus for providing these fabulous shoes to review.
All opinions expressed in this review are 100% my own!