What more can you ask for on a cold winter night then for cheesy potato soup that tastes amazing? I can't ask for more than that in the winter. Potatoes are one of the many comfort foods I turn to when I want a great meal that's made right. This soup can be made as a main dish or just on the side for an added treat to any meal. I like changing up this recipe by adding different vegetables or changing the type of cheeses I put on top. Like Gouda? Add it! More of a cheddar person? Pile it on! There are more ingredients that go into this recipe but it's so delicious that it's worth taking the time to make. Life is meant to be enjoyed right? That includes delicious meals like this cheesy potato soup. Definitely a warm and wonderful choice for cold winter nights.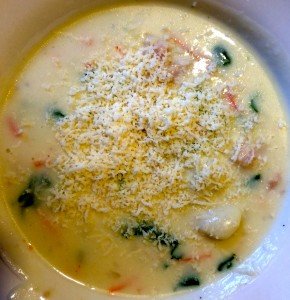 Ingredients
6–7 potatoes, diced
3 carrots, shredded
1/2 onion, diced
4 stalks celery, diced
1/4 cup spinach (if desired)
1 quart half and half
1/4 cup butter
1/4 cup flour
2 tsp. bullion powder
1 large bottle Cheez Whiz
Instructions
Place potatoes, carrots, onion, celery, spinach, and bullion powder in a large pot.
Cover with water and simmer for about 10 minutes.
Make a roux with butter and flour.
Add cream slowly.
Stir over medium/low heat until thick.
Add Cheez Whiz and stir until melted and smooth.
Add veggies and let simmer gently until serving time.
http://yourgoldenticketblog.com/2015/02/cheesy-potato-soup/