I don't know about you, but peanut butter anything is one of the easiest ways to my heart. It's right up there next to anything salted carmel. We will just focus on the peanut butter for right now though. I searched the internet for the best peanut butter bars I could find and of course, I was led straight to the Martha Stewart website. That is the beauty of Pinterest—it will take you exactly where you want to go. At least, in most cases it does. I have tried coming up with my own recipe for rice crispy peanut butter bars but I have never tried my recipes with corn syrup. I guess that was the magical ingredient I needed. And what a delicious recipe this is!
These bars are great for Superbowl parties (like I used mine for), homecomings, farewells, etc. Literally every group gathering I have been to, peanut butter bars go faster than everything else. Just watch out for friends and family members with nut allergies of course when making these. Basically these bars are like peanut butter cups in your mouth. What's better is that you can add mini Reeses peanut butter cups on top to make these bars even more special. With chocolate or without, these bars are wonderfully perfect to satisfy your sweet and salty cravings at the same time. Enjoy!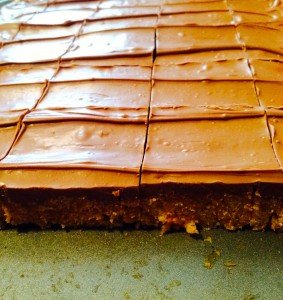 No-Bake Peanut Butter Rice Crispies
Ingredients
1 cup light corn syrup
1/2 cup granulated sugar
1/2 cup light brown sugar
1 1/2 cups peanut butter
2 teaspoons pure vanilla extract
5–6 cups Rice Krispies
1 bag (11–12 oz.) milk chocolate chips
Instructions
Line a 9x13" baking pan with aluminum foil or baking parchment. (Either will work)
Mix and heat corn syrup and sugars in a large saucepan over medium heat.
Bring to a boil and remove from heat.
Immediately add and mix in vanilla and peanut butter.
Add Rice Krispies, mix, and place in the 9x13 pan.
Evenly press and compact the bars until level.
Melt chocolate chips in a microwave-safe bowl, stirring every 30 seconds until melted and smooth.
Immediately pour chocolate over the peanut butter bars, spread, and place bars in the fridge to set.
Cut into squares and serve.
Notes
These bars are best cut when chilled in the refrigerator for only a few minutes. Much of the credit goes to Martha Stewart for this recipe and her website so thank her for her inspiration at: http://www.marthastewart.com/343255/no-bake-peanut-butter-rice-krispies-cook
http://yourgoldenticketblog.com/2015/02/chocolate-peanut-butter-bars/