I have always had thin, patchy eyebrows and my lashes are short and brittle. When I heard about Godefroy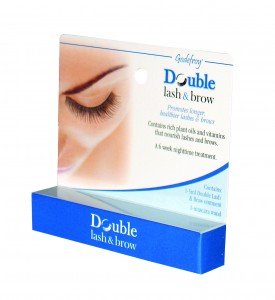 Beauty and saw their Double Lash and Brow on their I could not believe that the solution could be that simple; I had to it see for myself. When they gave me the opportunity to try it out I jumped at the chance. It has been 6 weeks since I started using it and I am amazed at the results!
When my package arrived I wasn't expecting the tube to be so small. Looking back I'm beyond impressed with how far the product actually went. The tube comes with an applicator brush that you use to apply the product to your eyebrows and lashes before bedtime. I must admit that especially early on it was easy to forget to do in my nighttime routine; but as I started seeing results I found myself looking forward to putting it on. I was hesitant to put something on my eyelashes at first but it didn't sting or cause any adverse reactions.

Double Lash and Brow is a 6-week nighttime treatment that strengthens lash and brow cuticles and extends the growth cycle. It encourages growth while conditioning and thickening lashes and brows.

Filling in my eyebrows with makeup isn't something I love doing but it has always been a necessity. Thanks to Double Lash and Brow I don't need to anymore! It is so simple to use and I am amazed that it is such a great value! My lashes suddenly curl up past the top of my eyelash curler and they have gotten much fuller! Even my husband has noticed a change.
This product is definitely worth trying. I am extremely impressed with the results and I plan to continue using every last drop!
FOLLOW:
You can follow Godefroy Beauty on , , and .
BUY:

You can buy Double Lash & Brow along with other Godefroy products on their .

Thank you Godefroy for the review product.
All my opinions are my own and are 100% honest.