When I found the healthy snack subscription box, Love with Food, I jumped at the chance to review their product! I've changed my diet to being a much healthier one and that means I am having a hard time finding HEALTHY snacks I can enjoy.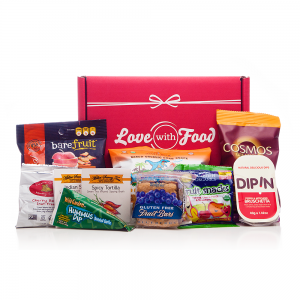 Before I talk about my experiences, here's a little bit about Love With Food. I encourage you to visit the and read about what inspired the founder Aihui Ong to create Love With Food because it's a touching story. After a series of life changing, and especially traumatic events, found Aihui Ong discovered a passion in food. She states, "I started coding, creating a website to help food makers find alternative distribution and marketing channels and help consumers easily discover great gourmet food." Better yet, with each healthy snack subscription box you purchase from Love With Food, they donate a meal to food banks all across the country.
So, now only do you have a healthy snack subscription box delivered to your door once a month, you will also help make a difference in the community. Isn't that such a wonderful feeling?
Okay, now back to my experience with the box -
First and foremost, I couldn't believe the amount of food I received! Check this out (and yes, some of those are empty wrappers, I couldn't wait)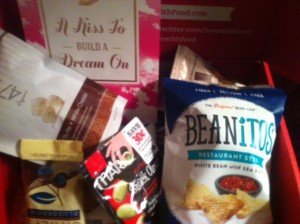 I got a boat load of chocolate treats (dark chocolate too!), healthy chips and popcorn, olives, and biscotti cookies. I couldn't wait to share with my family and we sure enjoyed ourselves. Each snack was healthy, even the chocolates. This was obviously food made with love and care – I didn't spot a single weird ingredient or something I couldn't pronounce. I felt so good about eating these treats and sharing them with the people I care about!
I was especially surprised about the olives, to be honest. It was in a single serve packet and I was worried that it may not taste right but I had them with lunch the next day and it was perfect! It was fresh tasting and I couldn't believe the taste (they were green olives by the way!). This little nugget made me really excited about the subscription and encouraged me to consider signing up for my own subscription. You won't just be received the standard snack of chips and chocolate – you will have surprises like this thrown in there too.
Now, onto the subscribing portion of this post – the prices for this box is incredibly cheap – it's $10 a month to get the tasting box where you receive about 8 snacks a month and for deluxe box, you get 16 – 20 snacks and it's only $17 a month! I can't believe the deal for this box and I know I am going to subscribe when I get the chance.
The only – ONLY – complaint I have is that you can't specify certain diet restrictions when you sign up (at least, not what I saw). I'm gluten free and I would love to let them know to exclude items with gluten. But that still won't stop me, I can tell you that.
Follow: You can follow Love With Food via , , or .
Buy
:
You can purchase your healthy snack subscription box with Love With Food by going to their and selecting a $10 tasting box or a $17 deluxe box! Use the link above and receive your first box for $5!
Win: One lucky winner will receive a 3 month subscription to Love With Food

Thank you to Love With Food for sponsoring this post and providing me a free subscription box for my honest review.