There are many mistakes that I have made in life as a mom. One of the biggest was the type of shoes that I put on my oldest. I will admit it, I didn't have good internet connections (if I even had the internet). I did not have a computer for the majority of the time when he was an infant. I just did not know some of these things and am so grateful that I learned about them before number two. However I do wish that I had known about them sooner.
With all of that being said, I can't help but LOVE baby shoes. When I saw First Baby Shoes I was instantly saddened that I no longer have a baby who can wear them. I love the idea behind them and the fact that you get to sew the shoes yourself so it is like a labor of love. I am so excited to give these shoes to a friend of mine who is having a baby. I know that she will appreciate being able to create and make her baby's first pair of shoes.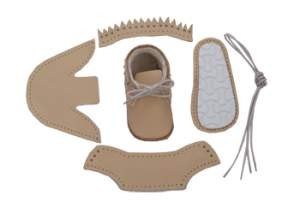 5 Things You Need to Know About Your Baby's Feet
The younger your baby is, the faster his/her foot is growing.
Did you know that the greatest period of growth in your child's feet will be during the first three years. In fact, the average child has a 12 size growth in that period of time. Doctors actually recommend that you have your child's foot measured by a professional at least once every three months!! If your child wears shoes that are too small, they can actually cause permanent damages to the toes. For the most part though, shoe growth will drastically slow down after this time.
The feet are one of the most important body parts that really do keep everything else in life moving.
One scary thing to learn is that most doctors estimate that the majority of adult foot problems were caused by something that happened in childhood. The foot is the part of the body that actually supports the entire skeletal system. The foot bones are not actually bones either until your child is about 5 which is why they can easily be damaged by wearing ill fitting shoes. There are additional statistics that point to ill fitting shoes as a direct cause for back pain, poor posture, and issues with walking.
Getting the right size shoes for your child is also very important.
If your child is wearing shoes that are too small then their foot is not going to grow right. Shoes that are too large can cause your child to have problems with running and playing and can cause painful blisters. Make sure that your child is wearing shoes that fit them appropriately.
Children's shoes wear out faster because children's feet sweat more.
Sweat is one of the things that breaks down shoes faster than anything else. Children actually produce about three times more foot sweat than adults. This means that their shoes wear out and break down faster because of the sweat.
Children's shoes should be made out of leather or canvas.
One of the best features of First Baby Shoes is that they are made from leather. They are created with the baby's foot in mind. You want leather or canvas shoes for baby because you want something that is flexible and going to breathe.
So what does all of this mean for you when you are shoe shopping? It means that you have to look for shoes that are really going to fall in line with what your baby needs. The best way to be able to do this is by purchasing shoes like First Baby Shoes.
Plus First Baby Shoes make an amazing shower gift and are something that you will be sure to love for a long time.